*This post may contain affiliate links. As an Amazon Associate we earn from qualifying purchases.
There is no shortage of examples of Jack Russells on television, in the movies, and in commercials. Their playful, energetic nature make them natural entertainers, and their clever and busy minds give them an edge in learning show biz tricks. But what about other art forms?

Would you believe a Jack Russell as a painter? Specifically, a famous expressionist artist?

Well, believe it or not, there was a famous canine expressionist artist — a Jack Russell terrier named Tillamook Cheddar, or Tillie, for short.
About Tillie
The Art Newspaper called Tillie "the most successful living animal painter." The AKC Gazette said, "When possessed by an artistic vision, Tillie is fearless." And Time Out New York called her work "a masterpiece of conceptualism." Not everyone agreed, of course. Art critic Jerry Saltz called her work "a sham." But perhaps he was just jealous.

In her fourteen-year career, Tillie had twenty exhibitions around the world. She was also a mom, and gave birth to a litter of six in 2006. None of her pups has followed in her artistic footsteps, however.

Tille passed away in 2014, at the ripe old age of 15.
About Her Work
Is this a joke? No! In fact, you can find Tillie's resume on her website (where you can also buy her biography, Portrait of the Artist as a Young Dog. It comes autographed.) Her story has been documented by numerous news outlets around the world, as well.

Her website describes her process as "a dynamic color transfer technique," in which Tillie "applied pressure with teeth and claws" to pigment coated vellum with a protective layer of mylar on top. Tillie would scratch and bite at the materials "in a methodic ritual marked by dramatic shifts in tempo and intensity."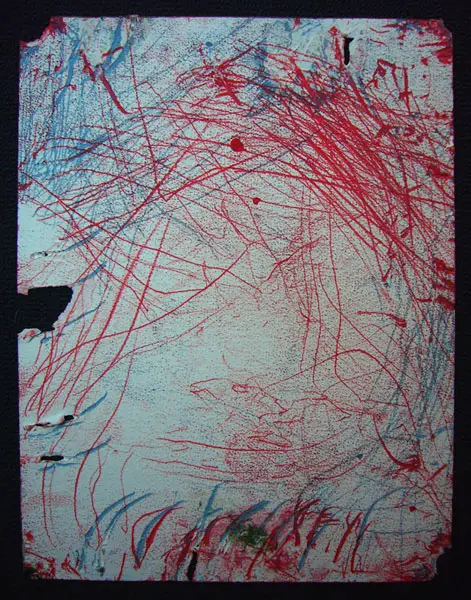 The result was "an expressionistic image" that, if her press is any indication, captured the imaginations of art lovers and critics around the world. Many of her paintings sold for more than $2,000!

You can check out Tillie at work in the video below.

Other Animal Artists
Tillie might be the only internationally renowned canine expressionist, but she was hardly the only animal artist. Nor the only animal who enjoys having a go with brush and canvas.

The St. Louis Zoo, for example, offers many of its animals art supplies as an enrichment activity. Would you like to see paintings by penguins? How about by insects? Or, how could we forget, primates? You can see art by these animals and quite a few more at the zoo's website. You can even buy prints!

And do you remember the talented elephant painters in Thailand? Check them out in the video below.

What other kinds of animals create art? Well, birds, cows, seals, gorillas, sea lions and more. You can read more about it  here.
A Window Into the Soul
Anyone who's ever loved an animal understands that, just like us, they have a heart, a mind, and a soul. So is it any surprise that some, like Tillie, have the soul of an artist?
Featured Image: CC0 by glyndwrgirl via Pixabay