*This post may contain affiliate links. As an Amazon Associate we earn from qualifying purchases.
If there's one word used over and over to describe the Jack Russell Terrier, it's athletic. Jacks are made to run and jump and fetch and run some more. If there was one breed made for sports, it's this one.

But what about the humans? It stands to reason that some JRT owners are as athletic as their dogs — or at least might want to have a bit of sporty fun with them.

Turns out there are quite a few canine sports that you can do with your dogs as a team. Let's have a look.

Canicross
What's that?

Canicross originally started as off-season training for European sled dogs, but has evolved to become its own sport.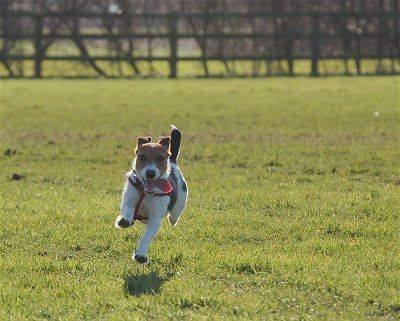 Basically, what Canicross comes down to, is cross-country running with one or two dogs. Human racers wear a belt, to which the dogs' leashes attach. Dogs wear a special harness and use special leashes, both of which are designed to reduce impact on the human participant.

Although competitive Canicross does exist — and has its own governing bodies — it's open to all breeds of dogs, as well as people of all ages and physical abilities. All you need is a willing spirit, and a dog that likes to run.
How might Canicross look with a JRT? Check it out.
If this sounds like something you and your Jack might enjoy, check out Canicross USA.

Musical Canine Freestyle
If you (and your dog) have a creative streak, you both might enjoy Musical Canine Freestyle. This is a relatively new sport, which seems to have sprung up independently in the United States, Canada, the Netherlands, and the United Kingdom around the same time — somewhere around 1989.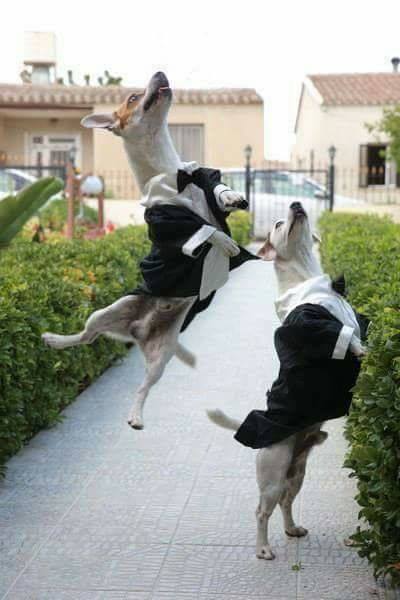 Musical Canine Freestyle combines obedience, tricks, costumes, and dance into a routine, and then sets that routine to music. The real magic, though, is the interaction between human and dog during the set.

There are several national and international organizations that govern and contribute to the continuing development of this sport. If you'd like more information, check out the Canine Freestyle Federation.
And in the meantime, have a look at this amazing Freestyle Jack.
Disc Dog
Disc Dog, or Frisbee Dog, is another sport that celebrates the bond between dog and human. And can you imagine anything better for a Jumping Jack Russell?

This is a 100 percent American sport, which started in 1970, with a young man, his dog, and a Frisbee. The dog, a pup named Ashley Whippett, caused a stir when he jumped a fence while chasing the Frisbee — and ended up disrupting a baseball game in progress. Security escorted the pair off the field, but a new sport was born.
A Disc Dog competition has a few different events. First, there's the Fetch event. Dogs get points for catching a disk in midair at different distances. There's also a musical Frisbee freestyle event! Disc Musical Freestyle consists of a choreographed routine that involves multiple discs!

You can find Disc Dog tournaments all over the country. It's generally a summer sport, though winter Disc Dog also exists.

You can find out more at the UpDog Challenge, or check out this Frisbee-loving Jack!
What's the Best Sport for Your Sport?
Sports can be a fun and even creative way to bond with your dog. Do you and your Jack have a favorite that didn't make this list? Let us know in the comments!
Featured Image CC SA 2.0 by Emery Way, via Wikimedia Commons