*This post may contain affiliate links. As an Amazon Associate we earn from qualifying purchases.
Nobody wants to sleep on a cold, hard floor. But some people aren't comfortable sharing their bed with a furry friend. You can, of course, buy a commercially made dog bed. But you can also make your own. It's not as hard as you might think, and it can be a really fun project to do with friends and family, as well.
So, how do you get started?

First, you'll have to find a design. There are plenty out there, and you should be able to find something that fits your needs, budget, and skill level.

Here are some of our favorites.
Design #1: An Easy No-Sew Dog Bed
This design comes from Miss Frugal Mommy. It's an easy dog bed that almost anyone can whip together in very little time, no matter what their age or skill level.

Fleece is a great material for many reasons. First, it's easy to wipe clean, and tolerates machine washing well. Also, it's soft and comforting, but also durable. It's easy to work with, as it holds its shape and doesn't fray. Finally, it's inexpensive and, with many brands being made from recycled plastic, it's environmentally friendly, as well.

Miss Frugal Mommy said that this bed cost about $25 in materials, plus an hour of time to make.

If you enjoy making this dog bed, why not call up a few shelters and rescues in your area, and see if they could use a few?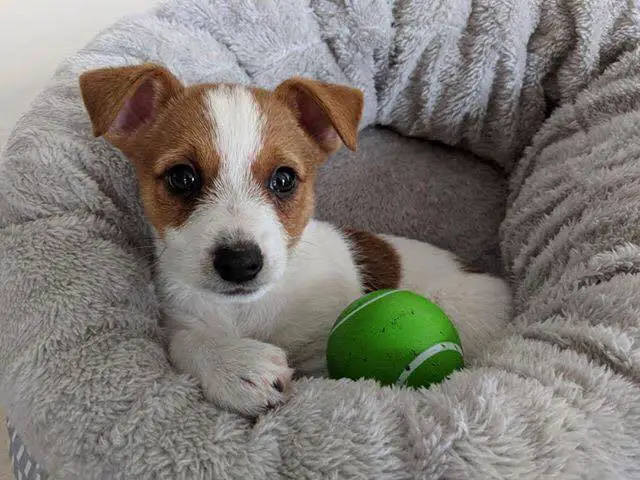 What you'll need
Two equally-sized rectangles of fleece, five inches longer and wider than the bed that you want to make
One bag of batting. This is filling for quilts or blankets. It comes in synthetic, bamboo, and cotton varieties.
Scissors
Tape measure
How to make it
First, lay the fleece rectangles one on top of the other, with the edges lined up. Now, cut a fringe around the edges. Miss Frugal Mommy recommends five inches. You will also remove a five-inch by five-inch square from each corner. You can use the tape measure to make sure the strips are all the same length.

Now, tie the top and bottom together by the fringe. Tie it together on three out of the four sides. Stuff the batting inside and distribute it evenly. Finally, tie the last side together to close it. That's it!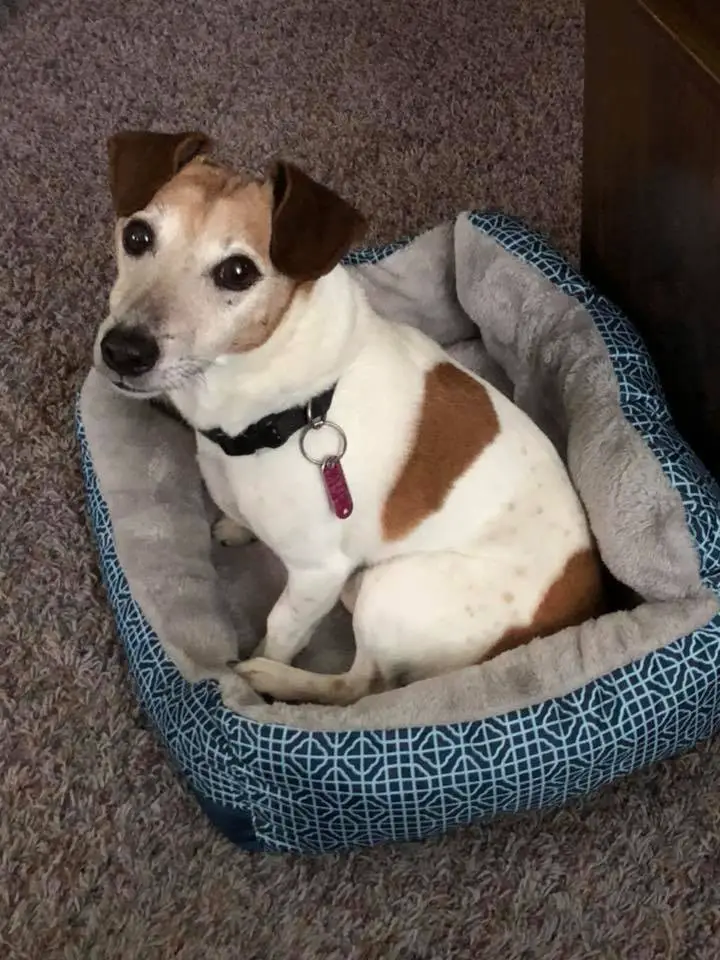 Design #2: Pupcycled Dog Bed
Cats aren't the only ones who love to curl up in a box, a basket, a suitcase, a drawer, or even…an old tire? If you have any of these things, you can convert it into a unique, comfortable bed for your pup.

Here's what you'll need.

A crate, basket, auto tire, suitcase, or similar
A pillow insert of roughly the same size. You can buy these at a fabric store, or make one yourself from fabric and batting
Fabric with which to cover the pillow insert
Sewing supplies: needle and thread or sewing machine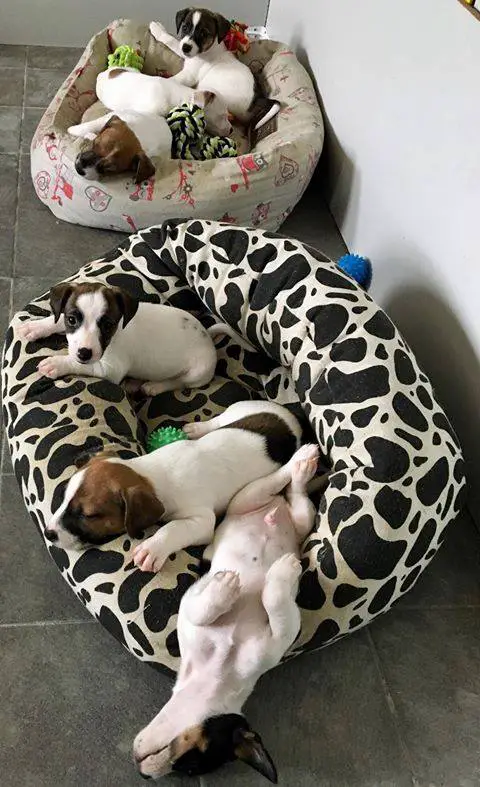 How to make it
First, make sure the object that will form the base of the bed is clean, with no splinters, nails, staples, or anything else that could hurt your dog. If you want to paint, varnish, or stain the base, do this now, and give it plenty of time to dry.

Next, cover the pillow insert with the fabric. You could use a pre-made pillowcase, sew your own cover, or even make the no-sew bed in Design #1.

Place the cushion in the bed. It's ready!
Design #3: Woven Platform Dog Bed
Designers at Wouldn't It Be Lovely originally created this deluxe dog bed for a 200-pound Mastiff. But you can downsize it for your Jack — or go with their size if your pup likes to live large.

The basis of the design is a wooden frame. Webbed straps are stretched across the frame and woven together to make a firm, comfortable surface. Because this surface does not sit on the ground, it's cool in the summer, warm in the winter, and gentle on bones and joints.
If you don't have your own home wood shop, don't worry. Many lumber shops will cut wood to order, and you can buy the legs pre-made.

You don't even have to be particularly skilled. As long as you can handle a hammer, a drill, and a staple gun, you can put together a really spectacular, durable, wood-frame dog bed for around $80.

You can find the complete instructions at Wouldn't It Be Lovely.

If You Build It They Will…Love It!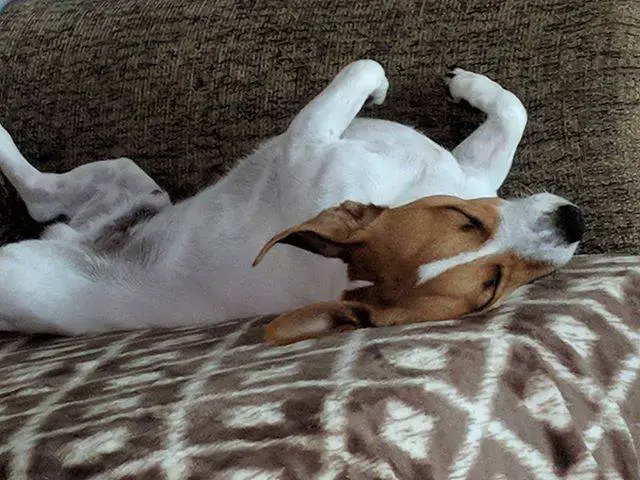 Whether you're ready to build a bed fit for a canine king or queen, or you just want something simple and comfy, it's not difficult to put together your own dog bed. It takes less money, and less effort than you think.

So, what are you waiting for?
Featured Image: CC0 by Englund via Pixabay