*This post may contain affiliate links. As an Amazon Associate we earn from qualifying purchases.
There's something so special about an older dog. Why is that?
Well, for one thing, they're not going to chew up your shoes. Many of them are past running around like maniacs and getting into the garbage. And they don't need to be told where to do their business.
Most importantly, though, they've walked a long road with you. They've been there for you at your worst, and celebrated your best times, too.
An older dog knows all your secrets and loves you anyway.
And that's worth a lot.
So if you're lucky enough to have an elder Jack Russell, we think you'll agree that your frosty-faced friend deserves some spoiling.
Anyone can throw the dog a bone. But your dog deserves more than that. Here are eight ways to spoil your elder Jack without spoiling their health.
Adopting an Elder Dog
But before we get to that, have you ever considered adopting a senior dog?
What, exactly, is a senior dog? That depends.
Many shelters have a "seniors for seniors" type program, where people over the age of 60 can adopt an older dog for free or for a discount. Some shelters consider dogs over five to be "seniors." For others, it's dogs over the age of seven.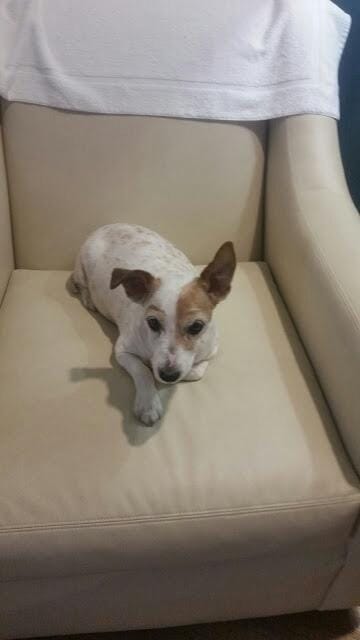 For a small, energetic dog like a Jack Russell, seven is just getting started!
If you're considering adopting a new dog, why not consider a senior? Why? Well, think about this:
Older dogs often already know basic obedience commands
They're not teething, so they're less likely to destroy your stuff
They generally know that potty means outside
Some people surrender older dogs just because they're older, and that's rotten.
Older dogs don't need as much supervision or training as puppies
They're happy for a walk, a pat, and a quiet evening at home
So if you have an older dog that's been with you their whole life, cherish and celebrate them! And if you're thinking of adopting a new dog, why not consider one with a bit of living under their belt?
How to Spoil Your Elder Jack
It's not just about spoiling them with food — though you can do that, too! There are so many ways to show your elder dog you love them, from the tips of their noses to the ends of their tails.
#1: A luxury dog bed
Every dog needs their own space to sleep, and your elder dog no doubt has their favorite. But as your dog grows older, they may spend more time in their bed, catching a nap here and there. They may also have physical issues that would benefit from some naptime pampering.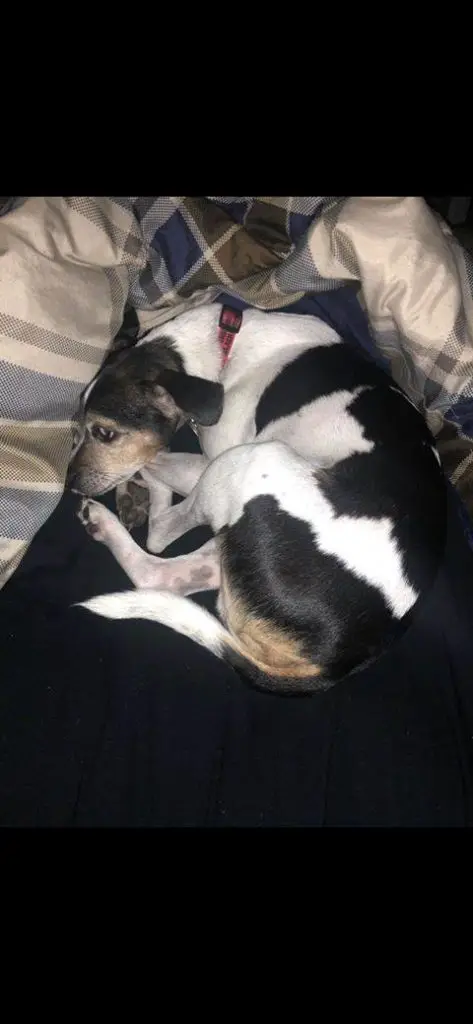 Memory foam
Memory foam is super-soft, super-squishy material best known for molding itself to the body. You can find dog beds with memory foam inside, and they're not too expensive, either.
If your dog has joint problems or arthritis, memory foam can provide a wonderful cushion for them. It's good for easing pressure on pressure points, too.
Memory foam is also low-maintenance and durable.
Raised bed
If you live in a hot climate, a raised dog bed can help your elder Jack to stay cool. A raised bed lets air circulate underneath the bed.
Many of these are made from a metal frame with breathable nylon or canvas stretched cross the frame. These sorts of beds are easy to clean. They're also good for dogs with arthritis or joint problems.
You don't need more than a few inches between your dog and the floor to provide all the benefits. So if you're considering a raised bed, make sure to get on that your dog can climb onto and off of with ease.
Make your own
Make your own dog bed? Seriously?
Yes! It's easy!
Whether you go for a simple design — two sheets of washable fleece fringed and knotted together around a memory foam cushion — or let your imagination go wild, there are all sorts of funky, comfortable, unique dog beds you can make yourself. Check out some of these plans.
#2: Special outings
One of the greatest gifts you can give your Elder Jack is time — specifically, time with you. What does your dog like to do? Dog park? Walkies? Chase the ball? All terrific things to do.
There are also special outings that neither of you will forget.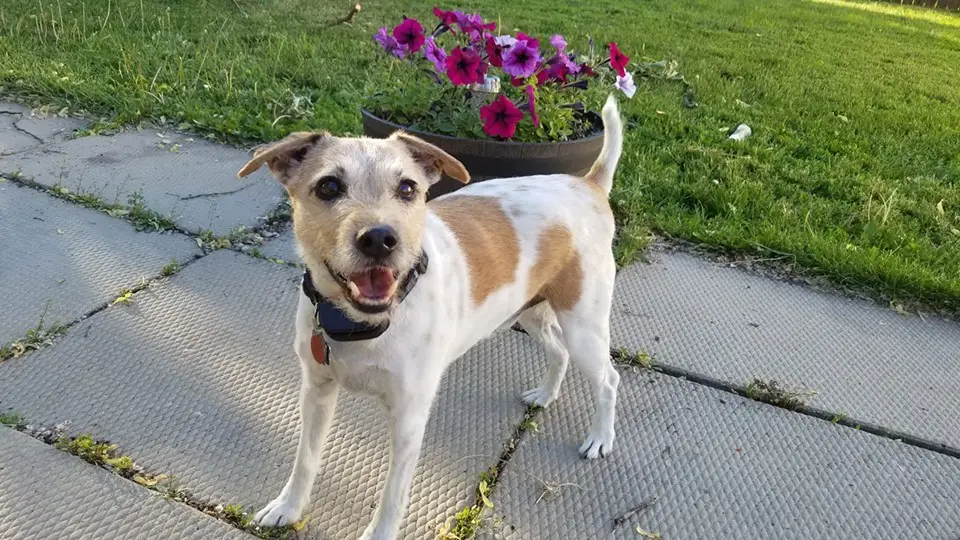 How about a movie?
Did you ever think of taking your dog to the movies? You can, you know! All around the world, movie houses are opening their doors to dogs and their people.
They often show films starring dogs. Some offer treats for dogs and humans. Others provide blankets to spread on the seats or on the floor.
A day at the movies could be just the thing for you and your pup!
Take your dog on vacation?
Yes, you can!
More and more, travel options like hotels, trains, and tourist destinations are opening their doors to dogs and their families.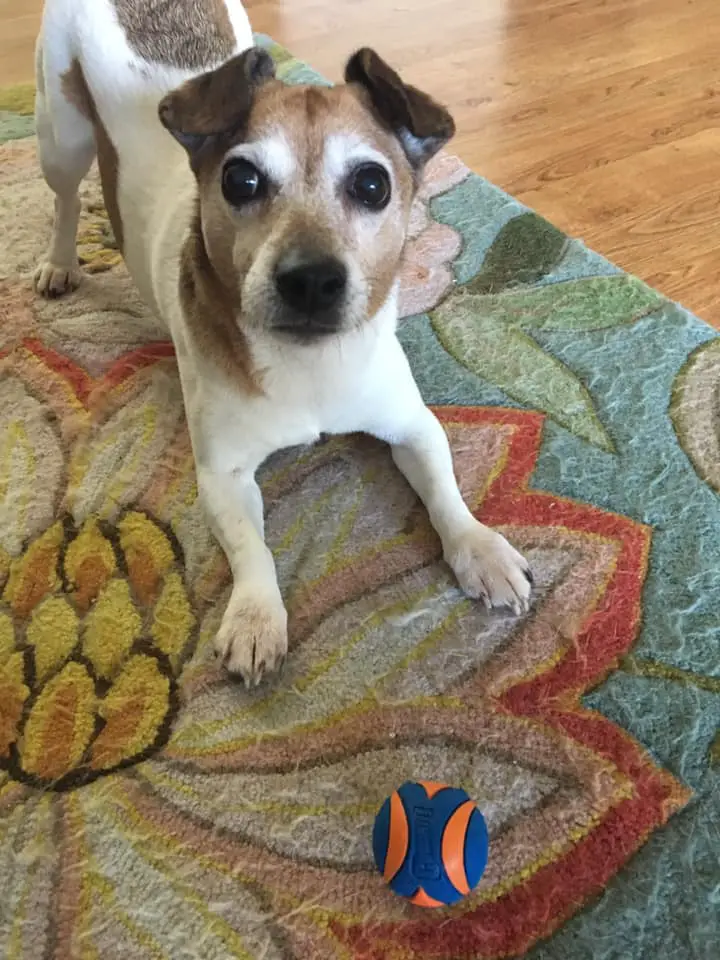 Would you like to book a dog-friendly holiday? Check out the Pet Friendly Travel Guide for tips on where to go and how to get there. Dog Friendly has listings of doggy destinations and activities including camping, skiing, beaches, parks, attractions, and more.
And if you really want an adventure, how about a sleep-away camp for you and your dog?
#3: Throw a pup party!
Is your Jack a social butterfly? Some dogs aren't, but if your pup enjoys other dogs' company, why not have his or her friends over to play?
If the weather is fine, put out a kiddie pool so the pups can splash around. Whip up some pupsicles or other treats.
And have plenty of tennis balls on hand!
#4: Puppy pampering
We're not talking about beauty treatments. A lot of Jack Russells don't have time for that. But there are some ways to pamper your dog that he or she will enjoy.
Dog massage
Massage feels great, and if your dog has any age-related aches or pains, massage can help with those, too. On top of that, massage can lower blood pressure, calm your dog, and, if done before physical activity, can help to prevent injury.
Best of all, you can do it yourself. A daily dog massage is a great way to pamper your pooch, as well as to spend some quality time with them.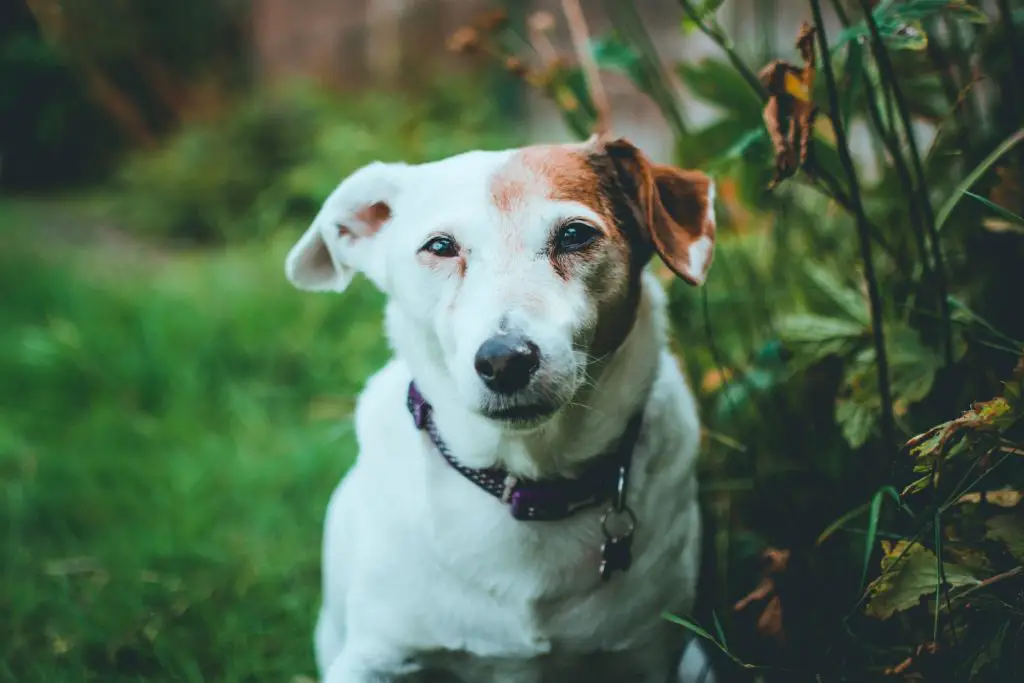 Dog Yoga
Yoga increases flexibility, decreases stress, and can help with joint and muscle problems. And it's true for dogs, too!
"Doga" is Yoga for dogs, and it's a thing.
There are three different kinds of dog yoga. With the first kind, your dog is a prop for your own practice. But that's not what you want if you're looking to spoil your dog.
The second kind of Doga teaches dogs to do the poses alongside their owners.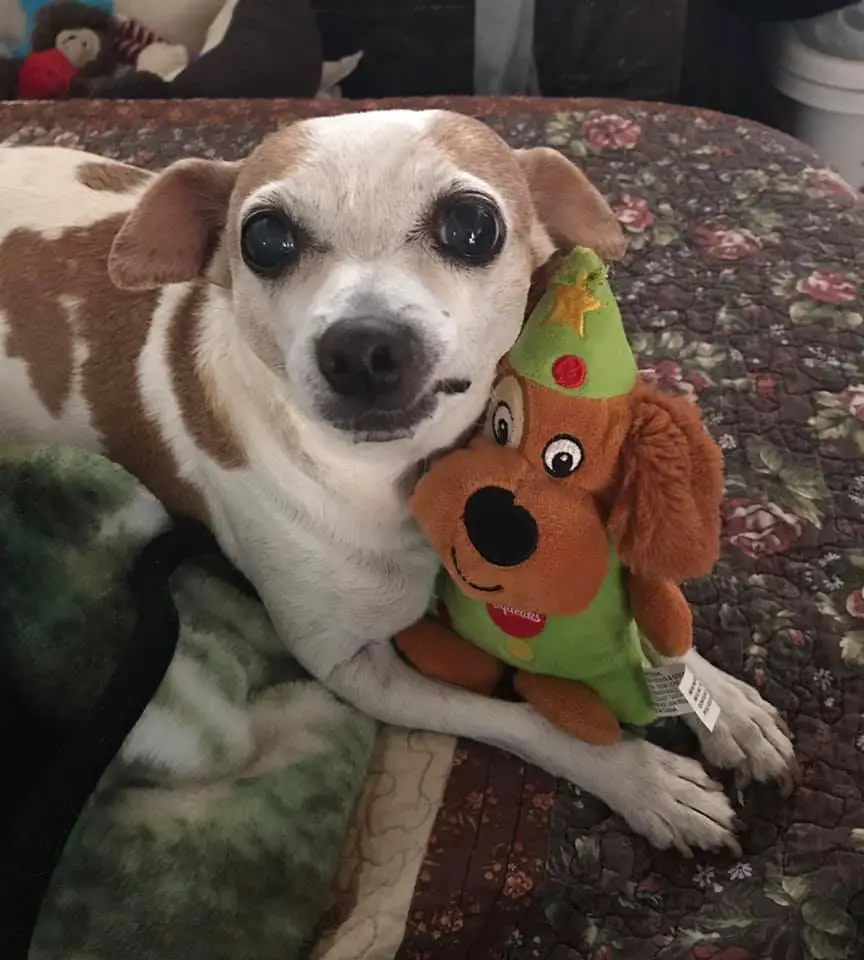 But the third kind will really help you to spoil your dog. This kind focuses on the Yoga movements for the dog's benefit.
So, how do you get started?
Mahny Jahanguiri, one of the founders of Doga, has written a book about how to do dog Yoga. Her website also has videos that can get you started.
You can also look for Doga practitioners in your area, if you fancy working with an instructor.
#5: Some specialized supplements and treats
Aging brings physical changes, and some of these, like arthritis, can slow your doggo down.
Fortunately, some of the things that can help come in treat form!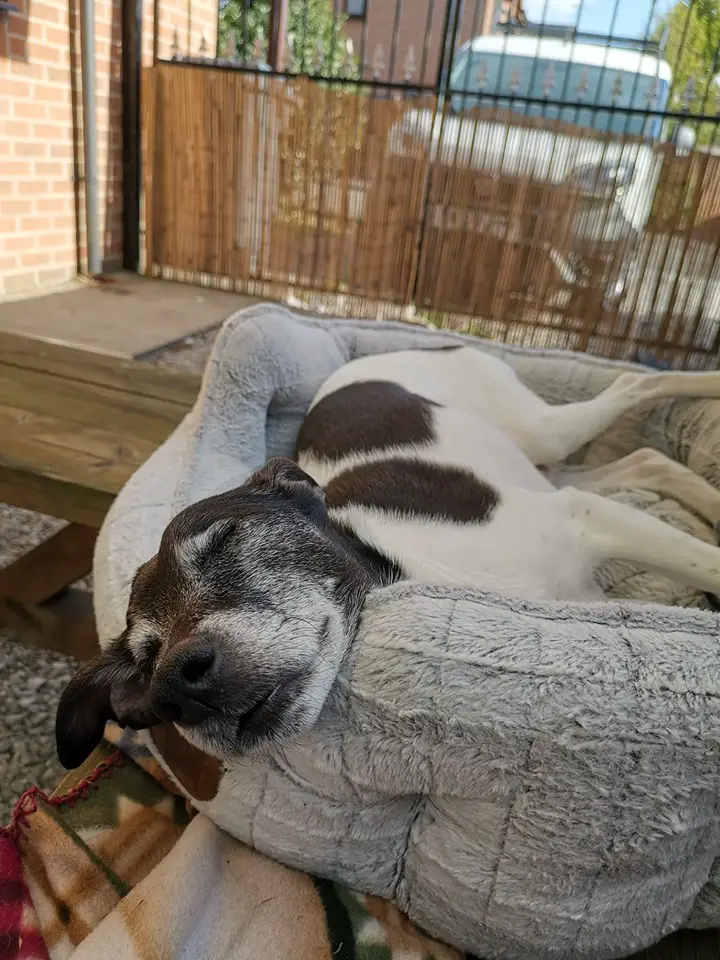 As always, check with your veterinarian before adding any sort of supplement or medicine to your dog's diet. And remember that treats should never make up more than 10 percent of your dog's diet.
That's good advice for all of us, though!
Treats that can help with arthritis
If your dog is slowing down a bit, it might be because they're feeling activity in their joints. Supplements that can help your dog to keep moving are:
glucosamine
chondroitin
MSM
green lipped mussel
salmon oil
Treats containing these ingredients are easy to find in many pet stores or online. Just make sure that if your dog is taking other medications, these ingredients won't conflict with them.
Brain-boosting treats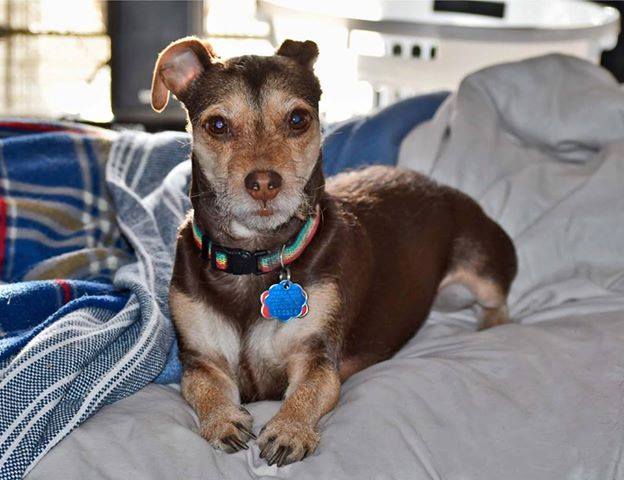 Fish has long been known as a "brain food," and fish oil, which contains essential fatty acids, can help to boost your dog's brain functions. It can also give them a shiny coat, and boos their immune systems.
It tastes good, too!
A disclaimer
Supplement treats are widely available over the counter. However, before giving your dog any medicine or supplement, check with your vet. This article is not meant as, or to replace veterinary advice.
Get Spoiling!
Your dog has given you so much. And senior dogs have a lot to give yet! Reward their love and loyalty with some well-deserved pampering!
How do you like to spoil your dog?
Featured Image: Pixabay license, by 4924546 via Pixabay