*This post may contain affiliate links. As an Amazon Associate we earn from qualifying purchases.
All right, Halloween is around the corner. If you're going to make your dog's costume, you'd better get cracking. Sometimes these things take longer than you think they will.
What? You might say. Sew my dog's Halloween costume? That sounds hard! Why can't I just buy one?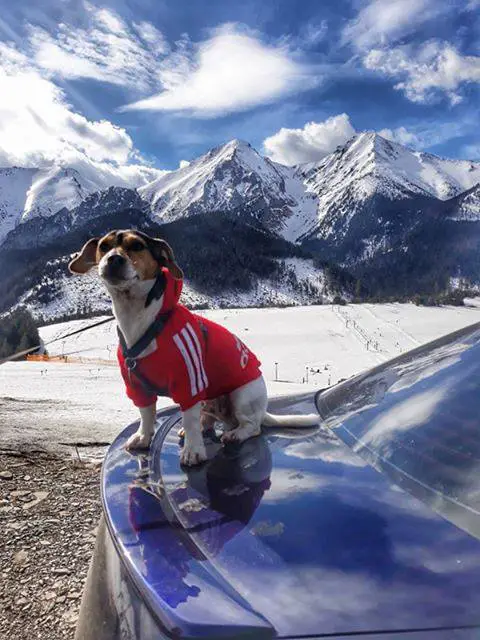 You could, of course. And there are some adorable pre-made dog costumes for sale, especially through artist marketplaces like Etsy. But making a costume for your dog is easier than you think. Plus, it gives you the opportunity to have fun making something completely and utterly unique.
So, are you ready to get started?
First, Measure Your Dog
The first thing you'll need to do is measure your dog. You'll need three measurements: the chest, the neck, and your dog's length.
Start by measuring the circumference of the largest part of your dog's torso. For many dogs, this will be the chest, right behind the front legs. If your dog likes his or her dinner a bit too much, though, the belly may be larger. Either way, you want your costume to fit around the largest part of your dog's torso.
Next, measure the circumference around your dog's neck. The hole for the head will need to be large enough to sit around the widest part of your dog's neck comfortably.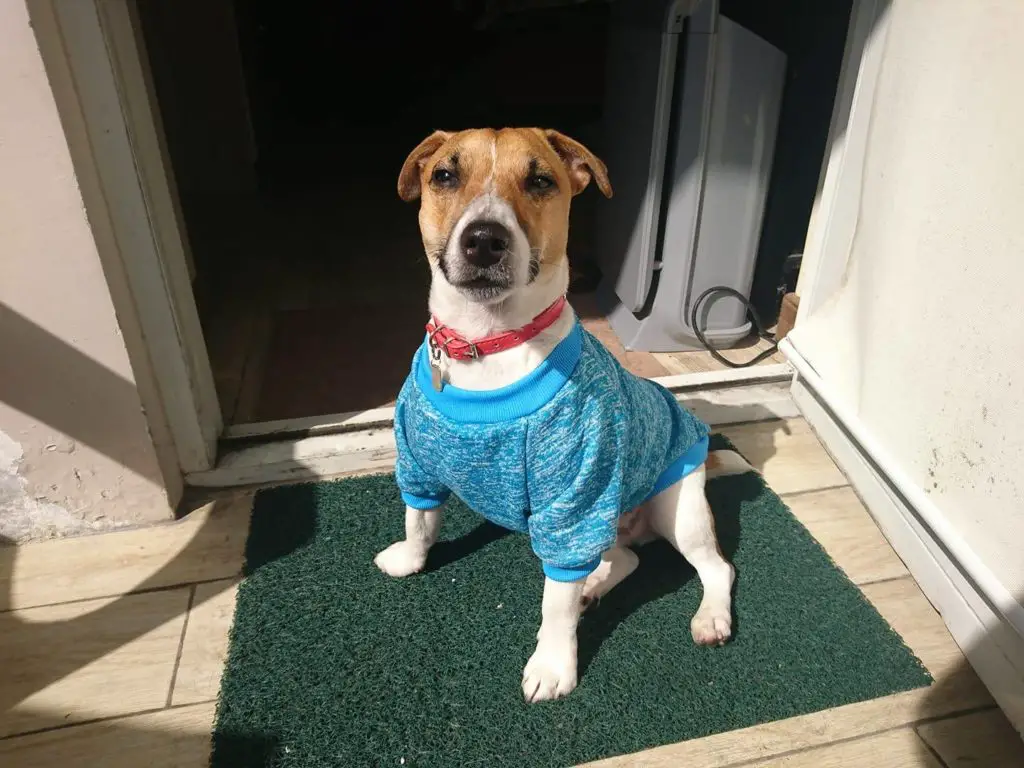 Finally, measure from the base of the neck to the base of the tail. This will be the length of your dog's costume.
If you're planning a costume that includes arms or arm holes, you might also want to measure the circumference of your dog's front legs.
Next, Pick a Base
Like a bowl, a salad, or a wrap? Kind of.
There are three ways to make a super-easy DIY dog costume. All right, there are probably more than three ways, but we're going to talk about these three in specific.
The onesie
If you're making your costume absolutely from scratch, this isn't simple. In fact, it's probably one of the most complicated ways to make a costume for your four-legged friend.
But good news! If you do it right, this way is the easiest, especially for a fun-sized dog like a Jack Russell.
All you need is a baby's onesie, a child's t-shirt, or even a button-down shirt. Make sure that it fits your dog's measurements, then cut the sleeves and shirttail down to size.
Voila! You now have a base on which to build your costume. You don't even need to hem it if you don't want to. But if you do, that's easy, too — by hand, by machine, or with fusible seam tape that you apply with an iron.
The cape
Another method is what we like to call "the cape." This consists of a rectangular or oval-shaped "cape," that lies across your dog's back, is secured around the chest, and may or may not fasten under the chest.
Start by measuring your dog's length. Then measure their chest circumference. If your cape is going to be a rectangle, then the length should be the length of your dog, from the base of the neck to the base of the tail. If the cape is a circle, then the diameter needs to be about the same length as the chest circumference.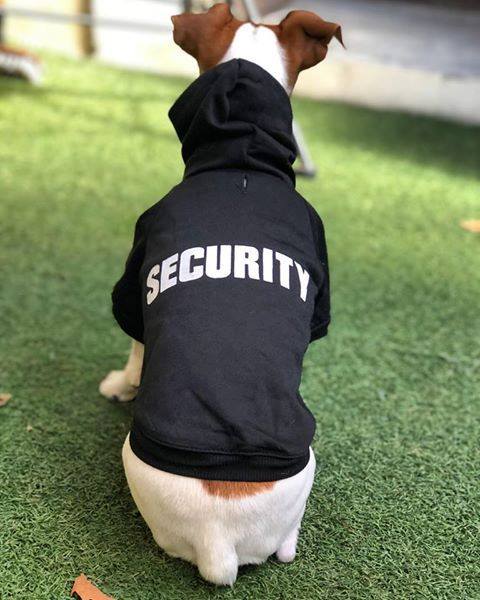 The cape will lay across your dog's back. But how to secure it?
The cape should be secured around the neck, at minimum. You can do this in a couple of ways.
First, you could make a cross-piece that attaches to the cape and goes around the front of the chest to make a neck hole. Secure the two pieces with buttons, elastic, Velcro, hooks and eyes, or whatever method you prefer.
If it's easer, though, you could always use ties or ribbons instead of a cross-piece.
For additional security, add ties or a second strap that secures around the chest.
The taco, or reverse cape
This is, quite literally, the above pattern turned on its head…or, rather, its stomach. Make the same rectangle or circle, as described above. Secure at the chest with ties, elastic, or a cross-piece. Only instead of securing underneath the belly, this one secures across the back.
Two cute costumes that you can make with this pattern are a purse and a taco.
Some Sewing Cheats
But what if you don't sew? Or you do, but you're not super-confident in your skills?
No worries! There are plenty of ways to get around some of the more difficult sewing tasks.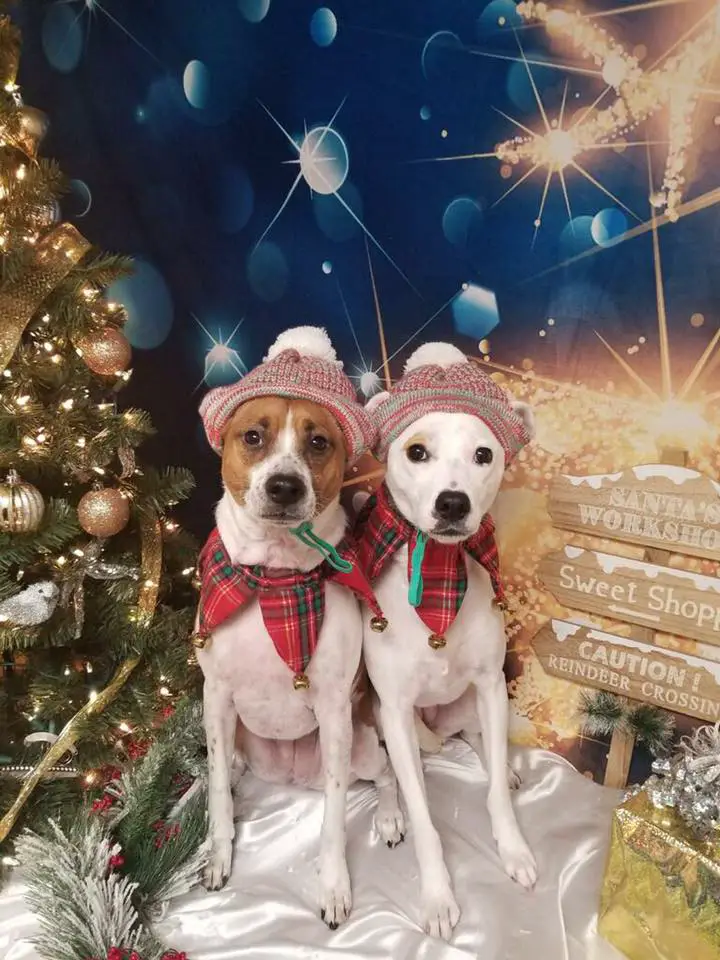 Velcro
We've all had Velcro-fastening shoes, right? Well, that handy fastening tape makes an easy substitute for buttons, zippers, and other difficult fasteners. It comes in three different varieties as well: sew-on, iron-on, and stick-on.
Simple!
Ties
Another easy way to fasten your dog's costume across and/or beneath their chest is with a ribbon or string tie. You can sew these on by hand, or even punch a hole in the fabric and string the tie through. (If you're feeling fancy, you can use brass or steel grommets to make your holes attractive and sturdy.)
Fusible seam tape
This is a sewist's best friend. Instead of binding off your hems by hand or machine, fold a little bit of seam tape into the hem and iron. It's not as sturdy as sewing the hem, but if your dog isn't expecting daily use out of their costume, then that probably isn't going to make a difference.
Non-fraying fabrics
Some fabrics, like felt, faux suede and fleece won't fray when you cut them. This means you don't have to bind the hems to maintain a neat edge. And that can save you a lot of work.
Fabric paint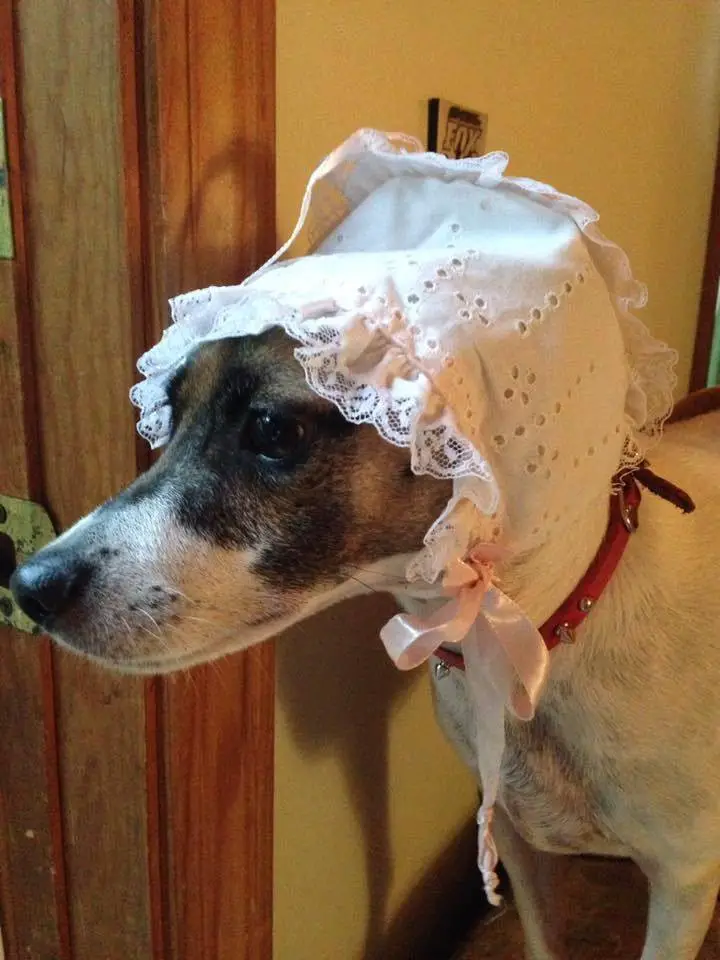 If you want to add decoration to your costume, fabric paints make it easy. Whether you want glitter, puffy paint, shiny paint, or some other special effect, you can get it, and fast, with fabric paint.
But be careful. If you think your dog might chew on their costume, perhaps this is a kind of decoration you should skip.
Pupcycling
You don't have to run out and buy fabric. You can hit the thrift store, or use clothing you have lying around at the bottom of your closet to make excellent "pupcycled" costumes for your dog.
And Now…The Costumes!
So let's take a look at some cool dog costumes that you could probably even make yourself.
Costumes you can make with the onesie method
Here are a few costumes you can make by altering a onesie or small shirt.
Business executive
Is your pup all business? Then maybe this costume is for them. You could make this by altering a child's collared shirt and sweater vest. Add a pair of doggy costume glasses, and your pup could be a professor instead.
Ballerina
This costume can be as simple as purchasing a baby's combination tutu and onesie. You could also alter a plain onesie and add a baby-sized tutu. If you're feeling fancy, you could even try your hand at making your own tutu.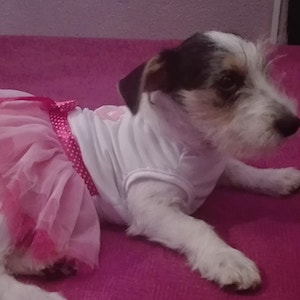 Costumes that use the cape method
These costumes would be easy to make using the cape method. Check them out. Are your ideas coming fast and furious yet?
Sherlock Bones
The hat might take a bit of work, but you can use your favorite plaid — or even grab a tweedy men's jacket from the thrift store — to make a cape worthy of the Great Detective himself.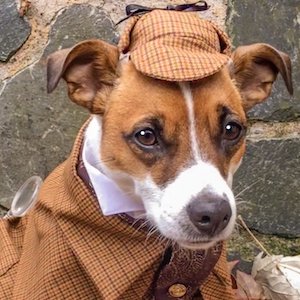 Sarape
This sarape is another costume that it would be easy to make, based on a cape design. This one was hemmed by machine, but ties simply around the neck.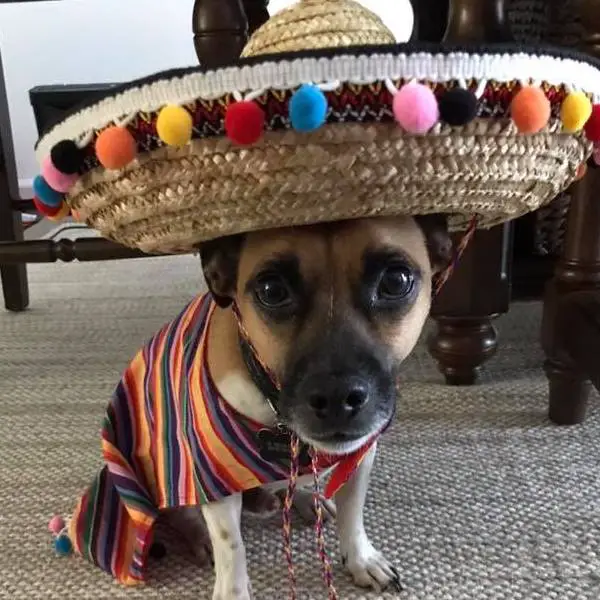 Costumes that use the taco method
The obvious choice for a costume using the taco method is… drum roll, please… a taco!
Taco dog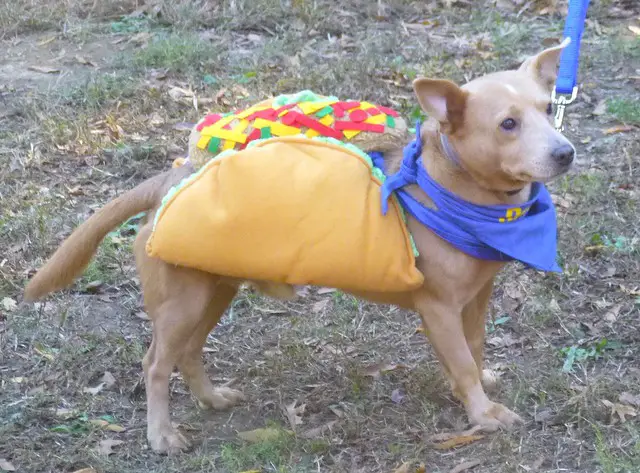 Hot dog
This hot dog looks to be made from hard plastic. But you could easily make a soft one from plushy fabric, or even from foam.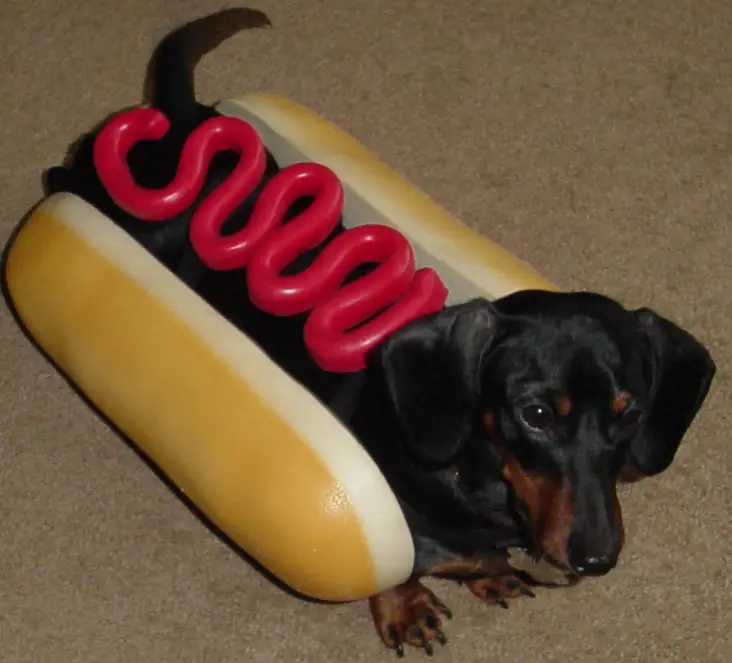 Accessories
If you're not up for making an entire costume, you might be surprised at how much mileage you can get out of some simple accessories. Like what? You might ask. Well, check it out.
Glasses
You could always use a pair of joke glasses made for humans. But did you know they make glasses for dogs, too?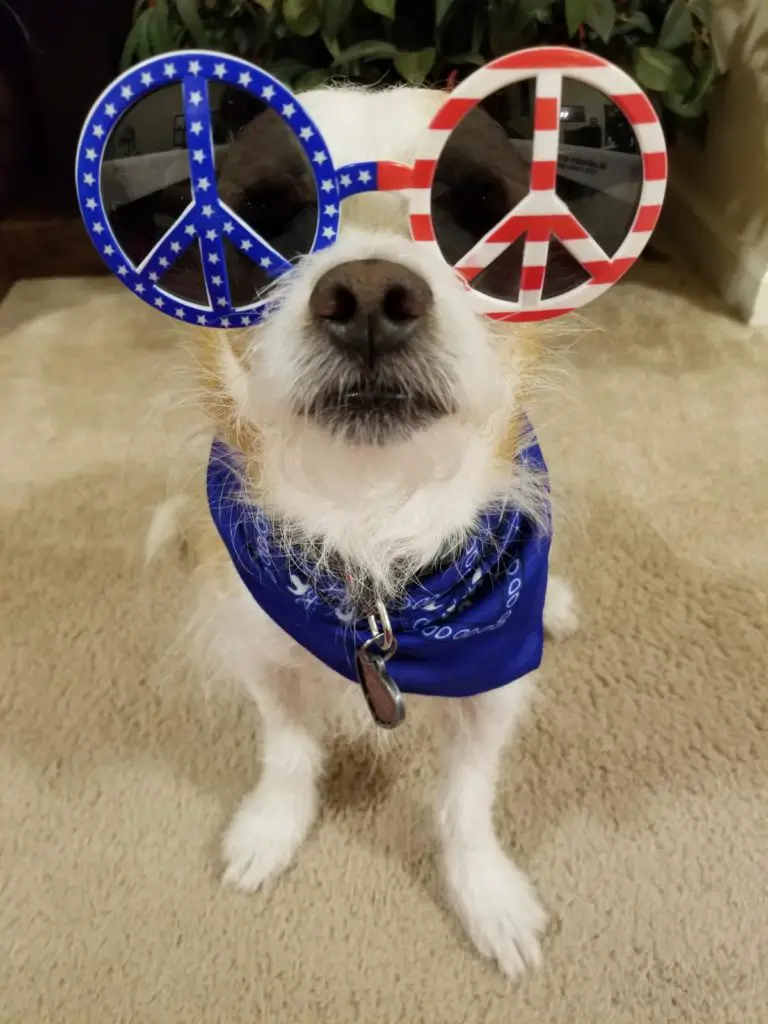 Shoes
There are plenty of purpose-made dog shoes to protect your pup's feet from heat, cold, snow, and rough terrain. But if you look, you can find different kinds of costume booties to accentuate your pup's look.
Bandanas, ties, and bow ties
The right neckwear can be a costume in and of itself. Whether a bandana, a necktie, a scarf, or a bow tie, you might be surprised how far the right neck adornment can take you.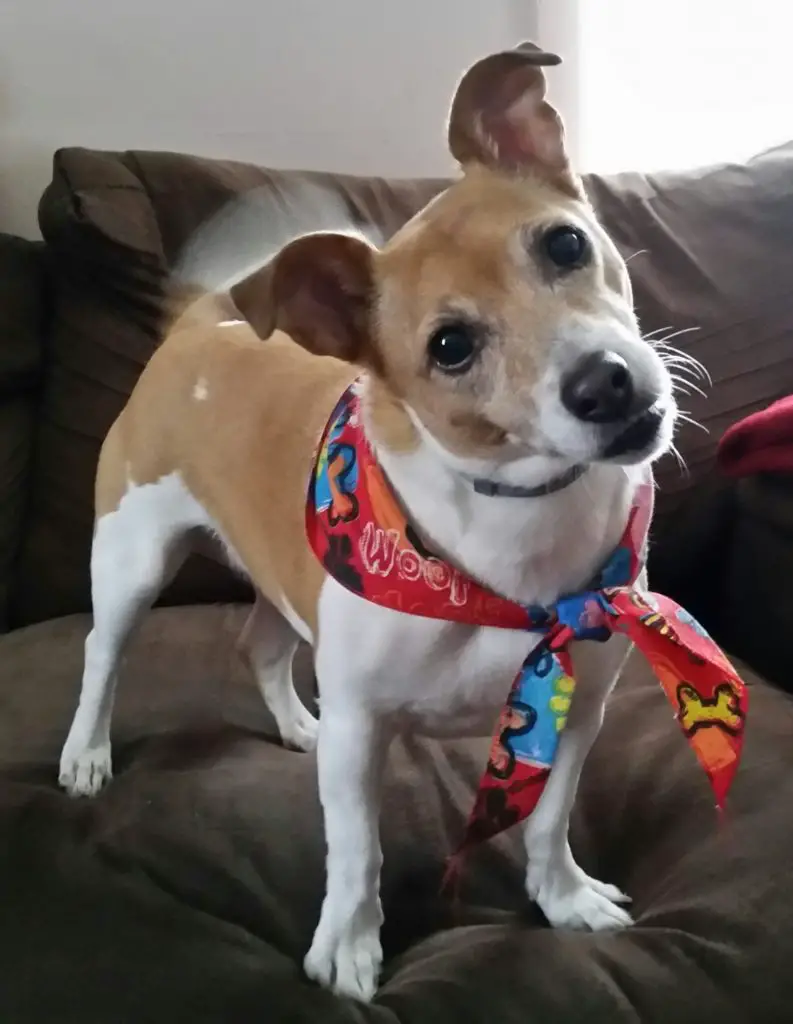 Hats
Hats! How many different kinds of hats can you name? Party hats, baseball hats, helmets, bonnets, berets…. And most come in dog-sizes with chin straps to keep them on.
Which Costume Will Your Dog Wear This Year?
It's easy to make your own dog costume. But if you're like me, you're probably doing a hundred other things at the same time. So get started early, and you'll have plenty of time to make the best costume out there.
Which one will you try?
Featured Image: CC By 2.0 by Istolethetv via Flickr