*This post may contain affiliate links. As an Amazon Associate we earn from qualifying purchases.
When it comes to picking out a present, there's no time like, well, the present! Black Friday is just around the corner, and after that, it's just a hop, skip, and a jump to the Gifting Season.
So, what's on your list for your favorite Jack Russell lover? What? You don't know? Well, let's have a look at what's out there!
Gifts You Can Make Yourself
Nothing says you care like a gift from the heart. And nothing says you really care like a handmade gift from the heart.
Not crafty? No problem! There are lots of simple, handmade gifts that you can whip up right at home for your favorite Jack Russell family.
Toys
If you know Jack Russells, then you know they go through toys fast. Therefore, one of the best gifts for a JRT family is…more toys!
And it's easy to make dog toys yourself. You don't have to have any special skills, and, a lot of the time you can even make them from things you already have at home.
What can you make? Have a look!
Rope and ball toy
To make this one, all you need is an old t-shirt (or even a pair of jeans you don't wear anymore), a pair of scissors, and a tennis ball.
First, lay out your garment. Next, cut it into long strips in multiples of three. A good length is between one and two feet. Knot the strips all together at the top, then divide them into three even sections. Braid the sections.
There are actually a couple different ways of doing this, including this one.
Now, take the tennis ball, and use the scissors to make a hole on each side. Thread your braided rope through the ball, and knot at the other end.
Now you have a tug-and-throw toy fit for a canine king or queen!
Tennis ball food puzzle
You can make this one quick and dirty, or you can take your time and make it polished. Either way, it's simple and fun.
Take a tennis ball and cut along the white line — not too far! Maybe two or three fingers long. Now, fill it with kibble or other hard treats.
This makes a quick and easy brain-teaser for a clever Jack.
Snacks
What Jack doesn't love a snack? Lucky you, there are dozens of recipes for homemade doggy goodies — and even some for dogs and their families to enjoy together. Many of them don't require any special kitchen know-how, or even any cooking at all!
Dog biscuits
Biccies are a natural for the holidays. So grab your favorite dog-friendly recipe, put it in a decorative tin, and woof! Holidays sorted!
What? You don't have a recipe? Try one of ours.
Pumpkin and Peanut Butter Biscuits
2-½ cups of flour
2 eggs
½ cup canned pumpkin
2 tablespoons peanut butter (make sure there is no Xylitol or other artificial sweeteners, as these are toxic to dogs)
½ teaspoon salt
Preheat the oven to 350 degrees Fahrenheit. Mix all ingredients together until it forms a stiff dough. Roll out the dough, then cut into shapes with cookie cutters. Bake 40 minutes or so until hard. Adapted from this recipe by Kelly at AllRecipes.com).
No-bake treat balls
This recipe also uses our favorite dog recipe standbys of peanut butter and pumpkin. You can serve them right away, or store them in the fridge. For gift-giving, whip up a batch same-day and bring them over on a plate to share immediately.
Half a cup of peanut butter (again, check for Xylitol)
1 tablespoon of honey
1 cup of canned pumpkin
Two-and-a-half cups of oats
First, put aside one cup of the oats. Now, mix all of the other ingredients together. Divide the dough into little balls, and roll the balls in the oats. That's it!
Handmade Gifts For Your Favorite JRT Lover
Maybe you don't have the time or the inclination to hand-make presents this year. That's all right! There are lots of artists of all different kinds who are ready to make them for you!
Want to see? Check these out.
Crochet your own Jack Russell
If you're crafty — or know someone who is — this crochet pattern makes a unique gift.
Simply purchase and download. The pattern makes a six-inch (15 centimeter) high three-dimensional Jack Russell. And it's adorable.
Hand-painted Jack Russell Christmas Cards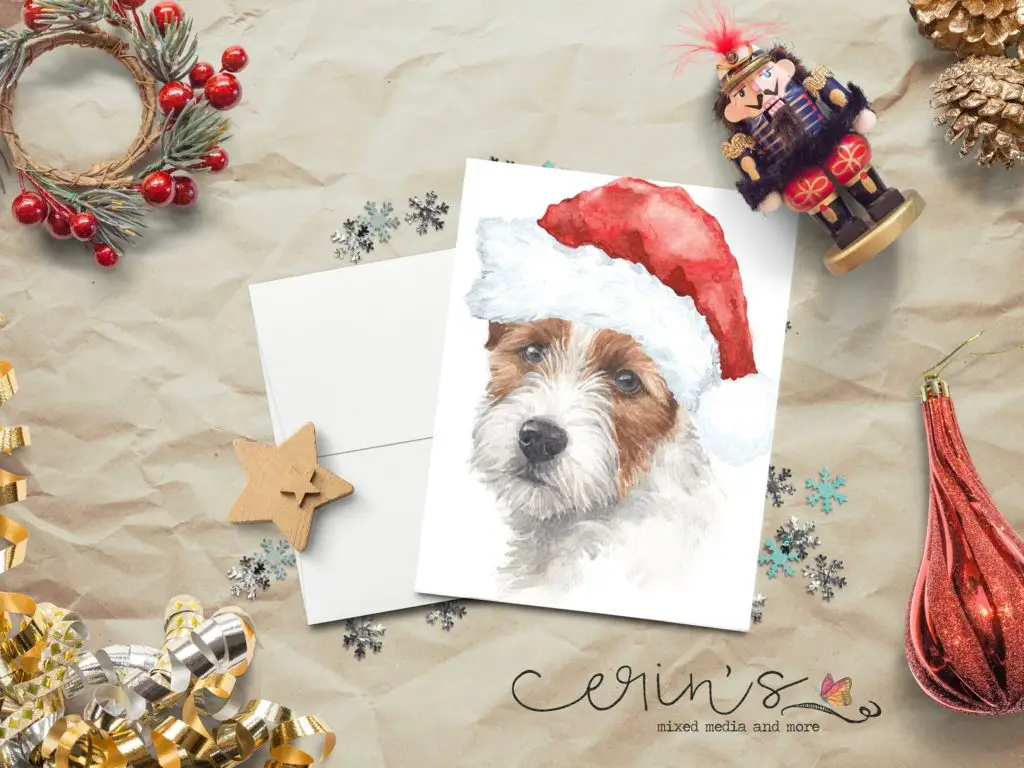 If your Jack Russell-loving friend loves Christmas, then they'll really like these gorgeous Christmas cards. The artist's original watercolor is printed onto high-quality recycled cardstock, and is available in packages of 10, 20, 50 and 100.
A Jack sack
Maybe your Jack Russell loving friend need something in which to carry all their presents. How about an adorable applique cross-body bag?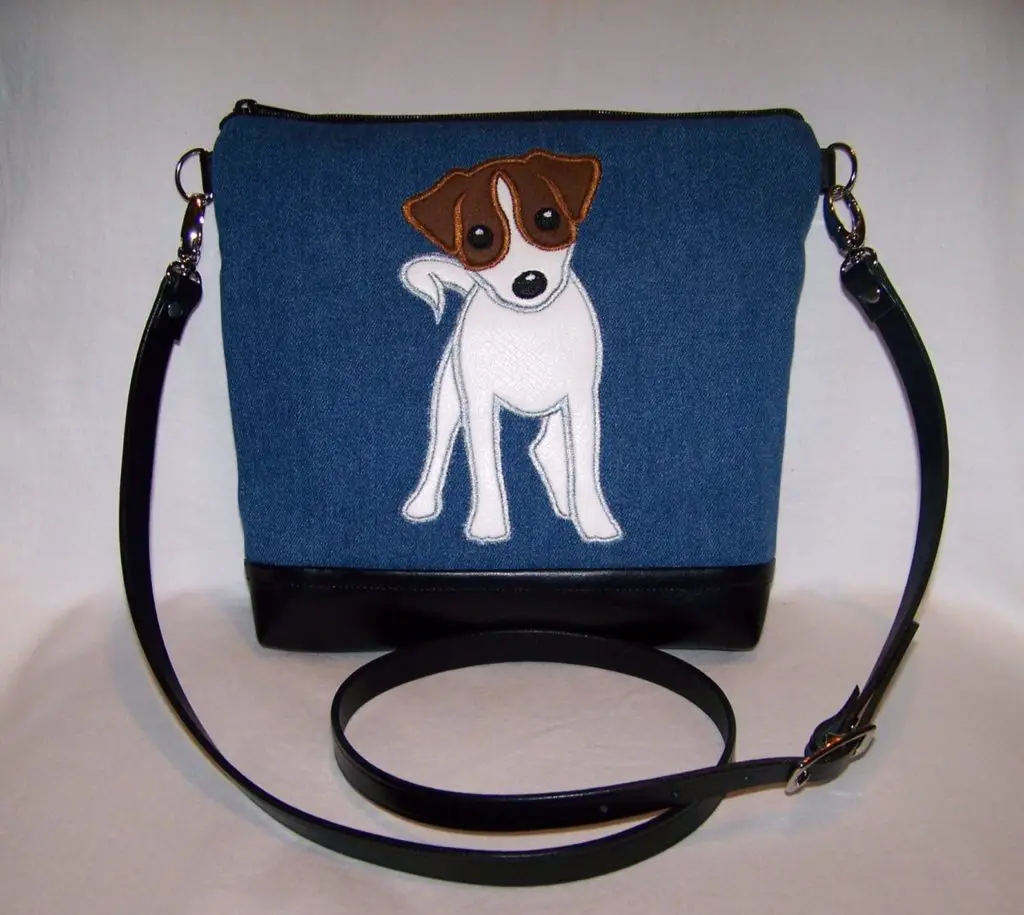 This bag measures ten inches wide by nine inches tall, and is made from durable denim, with a zipper closure.
Personalized cookie cutter
Want to make some dog-shaped dog biscuits? Or perhaps biccies for humans that are shaped like dogs? You can, with this personalized cookie cutter from Name That Cookie.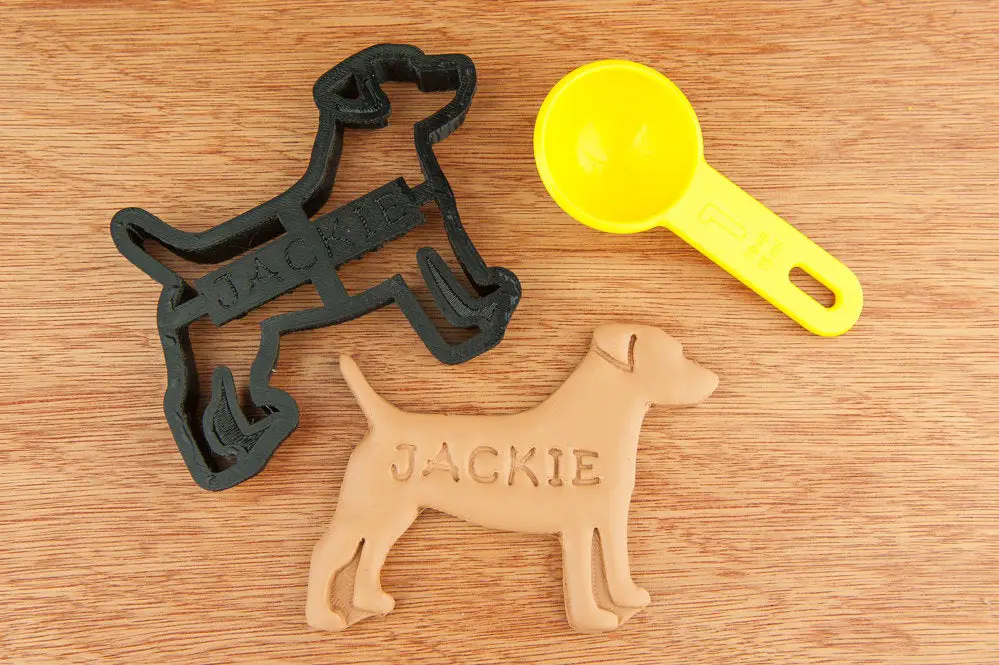 This cookie cutter is handmade with your name — or your pet's name — ready to be stamped into a JRT-shaped cookie. And there are many breed choices available!
Hand-painted porcelain necklace
If jewelry is more your style, check out this hand-painted porcelain Jack Russell Terrier necklace. The little dog measures 1.29 inches high, and comes on a 24-inch chain.
It's Jack Russell time!
Never again wonder if it's time for walkies (hint: it's always time for walkies!) with this handmade wooden clock.
Available in seven-inch, eleven-inch, and eighteen-inch diameters, with your dog's name and important dates, as well as a happy JRT silhouette.
Fun Gifts From Around the World
Haven't found exactly the right thing? Not to worry. There's a world of fun gifts available online. Check out some of these.
Every Jack Russell owner can relate
A JRT is smart enough to learn all sorts of tricks. But only if they feel like it. This t-shirt tells it like it is!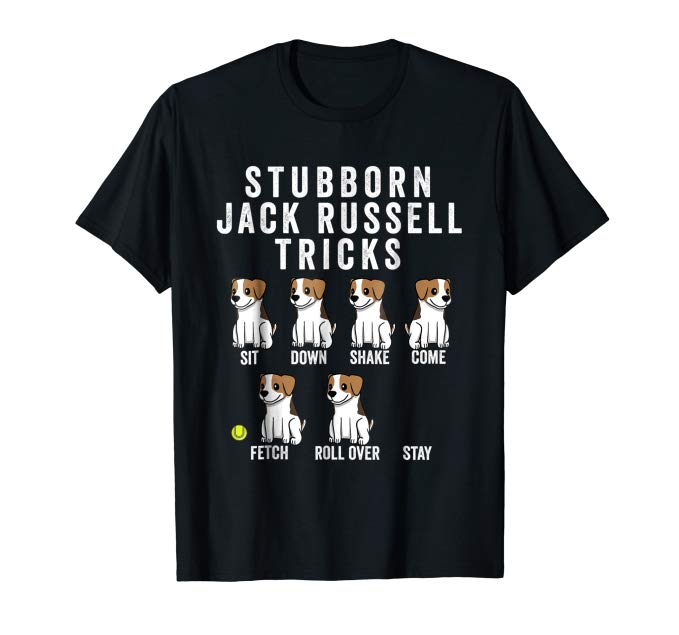 The Art of the Jack Russell
You're never too old for a coloring book. And this one is a great way to pass the time relaxing after a good, long visit to the dog park.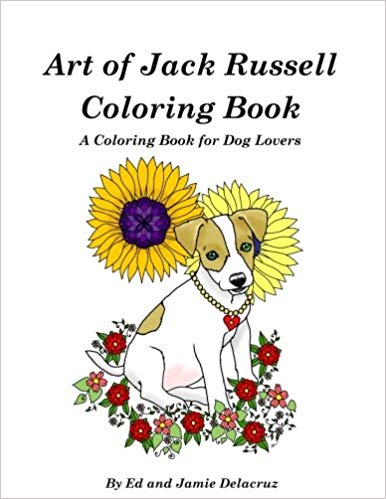 This delightful, all-ages coloring book by artists Ed and Jamie Delacruz has 52 hand-drawn pages of Jack Russells, ready for coloring. What's more, each page is single-sided, so it's easy to take the pages out and share, or even frame them.
For the home
Those shower curtains with the periodic table? So passe. What you, or your JRT-loving friend needs, is this one, with Jack Russell terriers sketched on.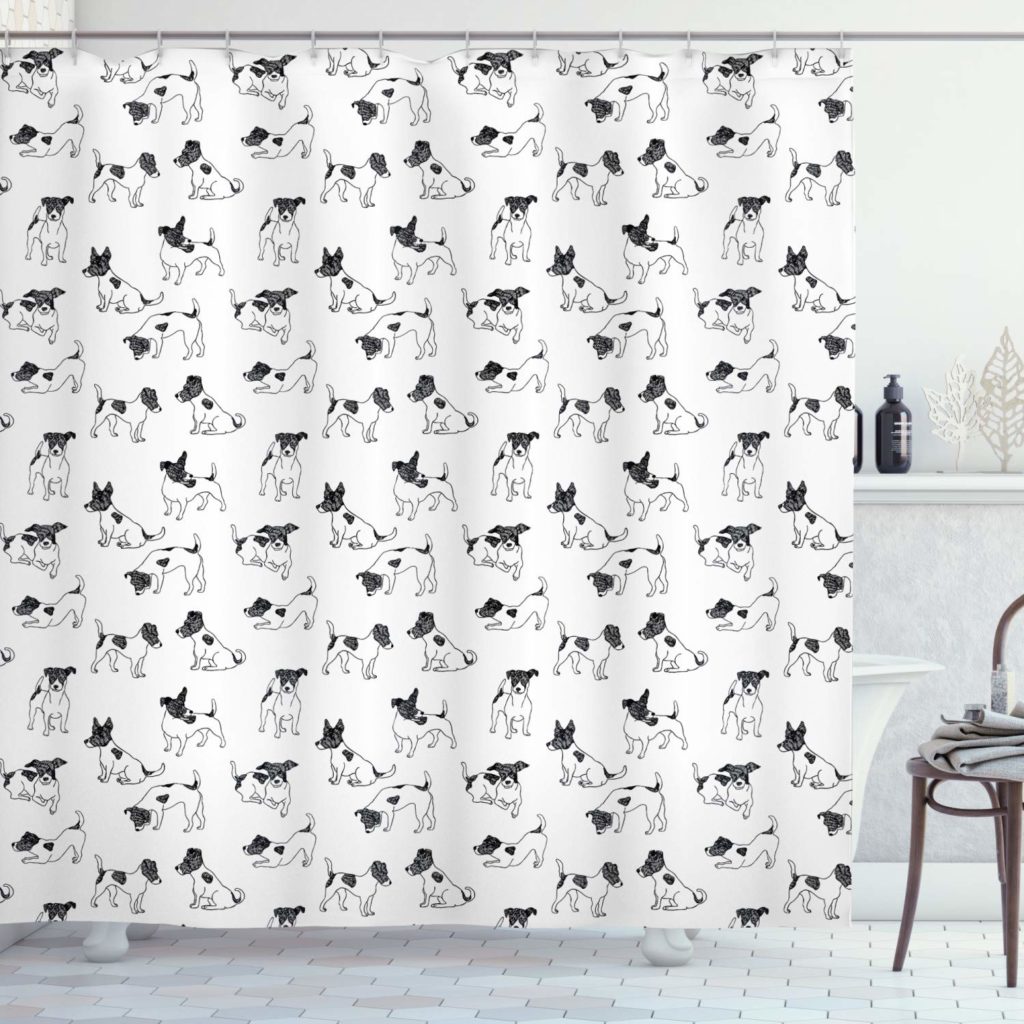 This machine-washable fabric shower curtain will stay nicer much longer than those silly plastic ones. And did we mention, it's machine washable? This curtain comes in three different lengths, too: 70 inches, 75 inches, and 84 inches.
It is sooooooo true
How many Jacks makes a full house? Do we need to even ask this question? If someone you love has a full house, they will definitely appreciate this!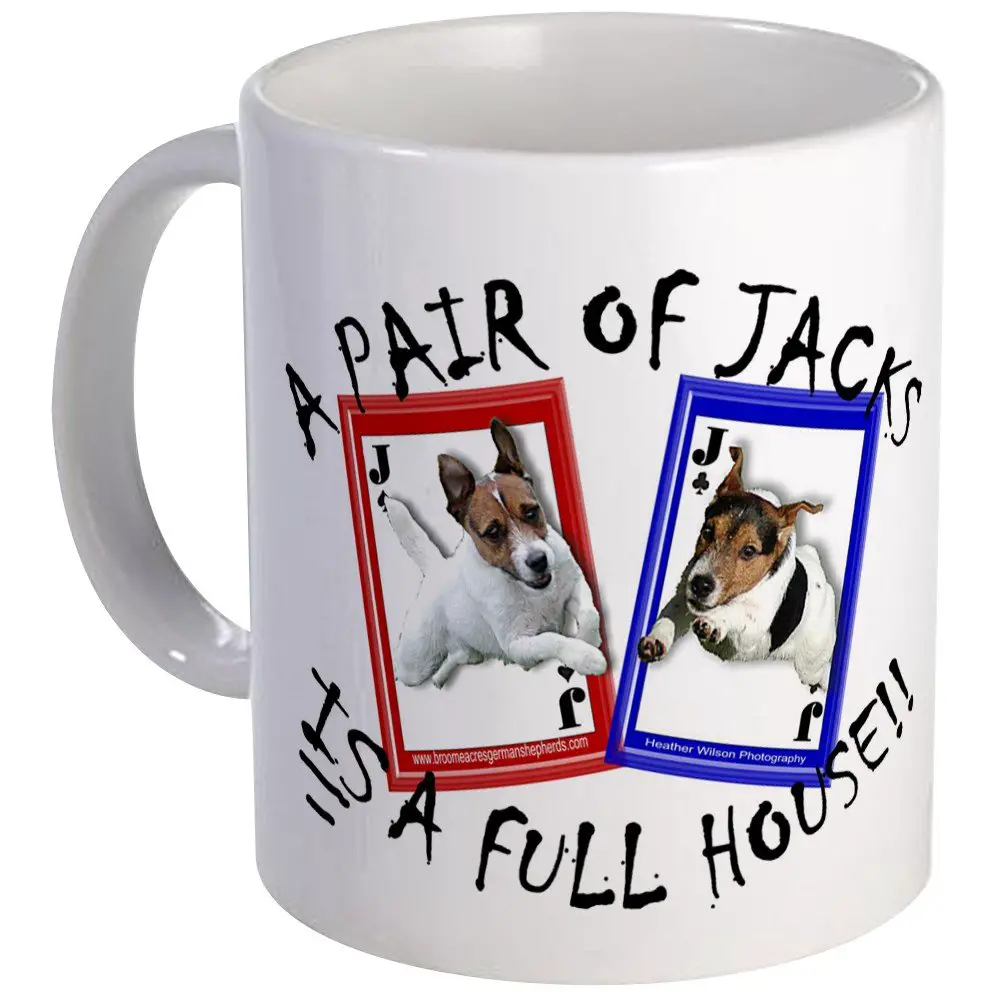 Get Giving!
Black Friday is almost upon us. And that means sales, sales, sales. So get your list ready, and get shopping!
Featured Image: CC BY 2.0 by Paul Wordingham via Flickr